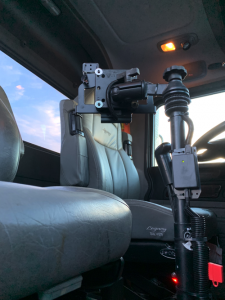 MOBILE completes EcoLab Nalco Division OBC refresh deployment
Posted on: July 8th, 2019
MOBILE recently completed the EcoLab Nalco Division OBC refresh deployment for our outstanding partners at CDW. The scope, high line numbers:
Scope of work: Removing existing OBC, utilized the existing floor bolted Ram mount, installing the Samsung Galaxy Tab Active 2 on a ProClip cradle
4.5 Scheduled weeks from start to finish!  (finished early)
6 Regions, 22 states, 43 Installation Sites
644 Scheduled installs, completed 612 (95%)
8 Techs utilized
Congrats to all parties on a very successful deployment. Special recognition to the 3 PMs, EcoLab-Kevin Scott, CDW-Robert Hunt, and MOBILE-Richard Poole. A great study in how a multi-site deployment should be managed!