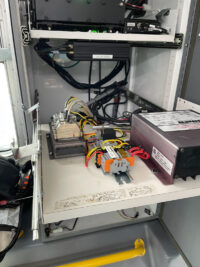 MOBILE completes Portland, OR 600+ Digi router deployment into TriMet transit buses
Posted on: April 25th, 2023
In 2021 MOBILE was selected by TD Synnex and TIG as the installation deployment partner for the TriMet MAR Project consisting of a new Digi Router, WIFI & LTE antennas, and a power switching distribution solution for transit bus ITS equipment.
During 2021-2022, MOBILE designed and tested a WAGO based power transferring distribution hub now known as the ITS Relay Power Distribution Hub. This unique design permits all power requirements whether 12/24v Battey or 12/24 Ignition of an integrated ITS system the ability to switch power through a standard SPDT 30A Relay with multiple inputs and outputs to all ITS equipment. This arrangement cleans up and organizes the bus IT Cabinet for easy maintenance and troubleshooting of ITS equipment.
On 04/25/2023 MOBILE completed the installation of 605 Transit buses for TriMet in its three main service garages in the Portland, OR metro area.